How it works
Daysy tracks your cycle for you
There are only a handful of days each cycle that you are fertile. The process of tracking when those days occur each cycle is called fertility awareness. Daysy uses the Fertility Tracker Method (FTM) to calculate your fertile days and predict your ovulation. This means, Daysy takes your basal body temperature and menstruation data, and calculates for you when you are fertile and when you are not. 
Daysy draws on the science of different models of fertility awareness to provide highly accurate calculations of your fertility status each day - fertile or not fertile. The self-learning algorithm does all of the necessary calculation work for you to come to these conclusions. The intuitive nature of the Daysy fertility tracker device itself reduces the potential for any user errors and mistakes. 
Daysy combines
A precise temperature sensor that gets the most accurate data reading
A unique, intelligent algorithm based on a database of 5 million menstrual cycles
An intuitively designed tracker that eliminates the potential for user error
Daysy makes fertility tracking precise and accurate 
All users have to do to practice FTM accurately is to regularly measure their basal body temperature and correctly input their menstruation days. The Fertility Tracker takes over all further steps and determines the fertility status of the user. 
Daysy has a very precise and sensitive sensor with which you take your basal body temperature when you wake up. This design is unique to Daysy. Many other methods of fertility tracking require a separate thermometer, which can be of varying quality, leading to measurement inaccuracies due to the thermometer calibration or as part of transferring the temperature manually to an app for review. 
Daysy is all-in-one, taking your temperature, storing your data, and calculating your fertility status within the singular device. The lights on Daysy then light red when you are fertile and green when you are not fertile. 
No note-taking, no forgetting, no worries - Daysy does all the hard work for you! 
Daysy's intelligent algorithm is supported by the science of fertility awareness, a database of 5 million menstrual cycles, and the experience with our 500,000 users. Possible factors that can impact the cycle and lead to delayed ovulations, such as stress or travel, are all incorporated into the algorithm.
Daysy make fertility tracking accessible and able to fit your lifestyle. 
You can rely on Daysy
Unlike other fertility awareness methods, Daysy makes it easy to find out when you are fertile and when you are not. 
The simple and intuitive operation of Daysy lets you know the current status of your fertility within seconds. All you have to do is measure your basal body temperature under your tongue with Daysy in the morning, immediately after waking up and before getting up. In addition, you enter whether you have your period. Based on your data and those from 5 million menstrual cycles and 30 years of research, Daysy's algorithm calculates within seconds whether you are fertile or not.
With these 3 colors you can keep track of your cycle and fertility status: 
If Daysy shows you a red light, you are fertile / possibly fertile.
If Daysy shows you a green light, you are not fertile.
If Daysy shows you a red flashing light, that is your predicted day of ovulation.
Yellow days indicate cycle fluctuations. They can also mean that Daysy is still in the learning phase and should be considered potentially fertile.
During your fertile window, it is possible to conceive; outside of your fertile window, it is not.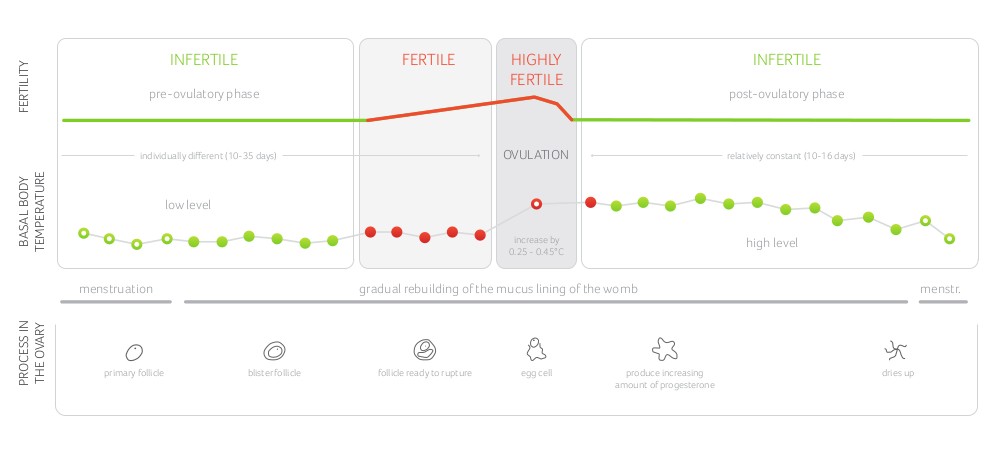 Get to know your body better 
A bonus with Daysy is the ability to explore your own menstrual cycle and get to know your body better. With a commitment of just a minute a day you can become more knowledgeable about your cycle and body. Our companion app DaysyDay gives you insight with cycle statistics and the ability to learn more about your health and wellness. 
Daysy can help you to make friends with your body and connect with your cycle. 
The hormone-free solution for managing your cycle
The Fertility Tracker Method is all-natural and hormone-free, meeting the needs of the woman who strives for a lifestyle that is health and wellness focused. 
Daysy is the hormone-free solution for managing your fertility, periods, cycles, and health. Know when you are fertile and when you are not, and have access to a sophisticated level of body literacy with all of your data, past, present and future accessible in DaysyDay. 
incl. VAT and Shipping
-
Product available - Delivery time: 2-3 days*
Daysy is an intelligent fertility tracker that lets you get to know your very own menstrual cycle.