Daysy ovulation calculator
Discover your menstrual cycle – and your fertility!
What Daysy is:
Daysy is a medical device and ovulation tracker. Daysy allows every woman who wants a health-conscious lifestyle to monitor her individual monthly cycle and determine her infertile and fertile days in natural harmony with her body.

What Daysy does:
Daysy is an effective and science-based method which allows you to easily, reliably, and precisely differentiate between your fertile and infertile phases, based on the precise measurement of your basal body temperature.
How to use Daysy:
Every morning, upon waking, you measure your basal body temperature under your tongue for just 60 seconds and enter menstruation if necessary. Daysy immediately analyzes your cycle data and shows you if you are in your fertile window or not.
Why you can rely on Daysy:
Due to an intelligent algorithm based on scientific evidence, decades of experience, and well-engineered technology, Daysy provides the highest quality, reliability, and precision in fertility tracking.
How Daysy informs you:
Daysy shows you your fertility status as either a red or a green light. This way, you always know when you are in your fertile window and when you are not. This technology-based temperature method, used by Daysy, is one of the most reliable methods in the world for fertility tracking.
Daysy has her own app
The DaysyDay app makes Daysy compatible with smartphones and thus offers new options for digitally expanding your knowledge of your unique menstrual cycle and body. DaysyDay also gives you the ability to share your information with your partner, doctor, or our expert team.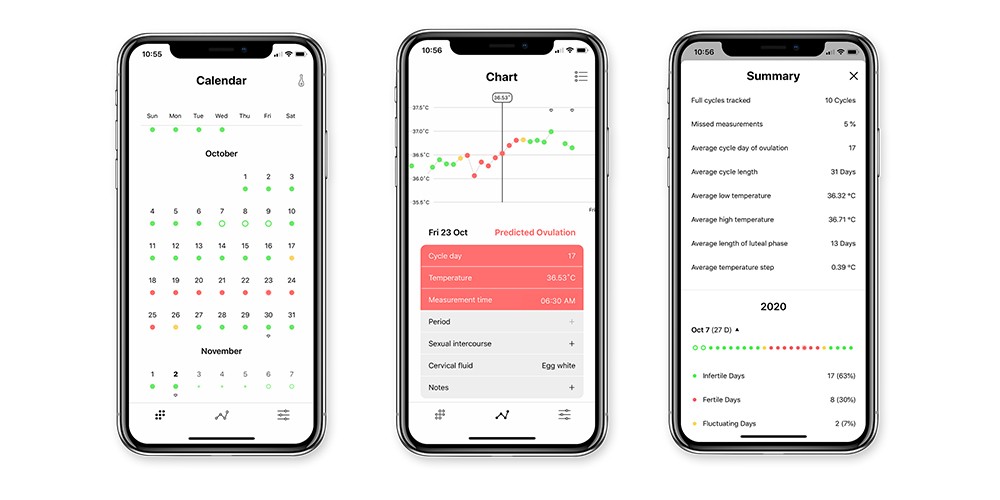 In addition to displaying your individual cycle calendar and temperature curve, "DaysyDay" shows you a range of statistics about your menstrual cycle. You will see a prognosis for your fertility status over the coming weeks so you can plan ahead. 
Especially convenient: now you can connect your Daysy with your smartphone via Bluetooth®.
Daysy highlights
Daysy is perfectly simple and straightforward.
Take your basal body temperature in only 60 seconds, enter menstruation when necessary, and Daysy will indicate the days when you're fertile and the days when you're not.
Daysy is reliable and precise.
With well-engineered technology and an intelligent algorithm, Daysy guarantees top quality and reliability – in a completely natural way. Be in touch with your body.
Daysy has its own app.
With DaysyDay, you can view the details of your cycle and can share these with your partner, doctor, and our team of experts.
#Loveyourbody – Daysy is all natural and empowers you to live in harmony with your body.
Get to know your body with Daysy - the ovulation calculator
With Daysy you can get to know your cycle and your body in a new way. Ovulation calculator Daysy offers you a natural method to track your cycle and to accurately determine your fertile days – and of course your infertile days!
Thanks to the advanced technology based on more than 30 years of research and 5 million cycle data, Daysy calculates for you your infertile phase easily, simply and accurately.
During your fertile window you can plan a pregnancy, during your infertile phase you can not. Daysy offers a very reliable and precise  ovulation calculation.
The Woman's Cycle: Medical basics
There are some basic physiological facts with regard to the cycle:
Every woman has only one ovulation per cycle.
If two or more instances of ovulation occur, they take place within 24 hours.
After ovulation, the ovum is fertile for a maximum of 18 hours.
Sperm is able to move and fertilize in a woman's body for a maximum of 5 days.
This means that pregnancy can occur on only 6 days, i.e. 5 days before ovulation and on the day of ovulation itself. Daysy calculates these 6 days and then indicates them to you.
Why a ovulation calculator will make your life much easier in many ways
As a reliable lifestyle ovulation tracker, in the terms of the fertility awareness method (FAM), Daysy calculates the fertile phase of the woman's cycle based on a very sensitive and precise, computer-assisted basal body temperature measurement, obtained directly after waking up.
Daysy's integrated thermometer enables a particularly precise measurement. This distinguishes Daysy from other methods which require a separate basal thermometer, leaving it up to the user which thermometer is used.
Consequently, there is no guarantee that the applied thermometer meets the required standards. Measurement inaccuracies and rounding errors can occur due to the thermometer or when entering the data into the app.
Imagine…
... from now on you would know when you´re fertile and can become pregnant!
... you could leave mood swings and other side effects behind you!
 ... you would no longer have to keep time-consuming and complicated cycle charts!
 ... and you could finally be in harmony with your own body!
Rather than consistently recording your cycle month after month (including complicated calculations and the worry of whether everything has been correctly noted down and analyzed), being in the know about your menstrual cycle can be much easier and natural at the same time.
Daysy - the smart digital ovulation calculator with the simple color system
Daysy offers you a simple, easy-to-use method that allows you to get to know your cycle better – without tables, formulas, and calculations! 
Daysy helps you ...
 ... to bring spontaneity and flexibility into your love life.
 ... to attain higher awareness of your own body.
 ... to get to know your body's rhythm and to trust it.
 ... to determine exactly when you are fertile and when you are infertile to plan a pregnancy .
With Daysy, the choice is yours!
Daysy gives you all the information about your cycle and its individual phases you need to make your wish for a child come true. And the best part? Daysy works 100 percent naturally and saves you the recording of cycle curves and charts.
In just 3 steps and about 60 seconds per day, you will know more about your menstrual cycle!
Every morning when you wake up, you measure your temperature under your tongue.
Enter if you have your menstruation.
Daysy evaluates your data and tells you if you are fertile or infertile.
Choose Daysy and get to know yourself and your body better!
Why a ovulation tracker like Daysy is the perfect device for today's woman
Due to an intelligent algorithm based on scientific research, many years of experience of more than 500,000 users and a sophisticated technology, Daysy offers highest quality, precision and reliability for fertility tracking. Factors that influence the menstrual cycle, such as phases of stress, alcohol consumption and sleep deprivation, are considered in the algorithm.
You can get started with Daysy anytime, and after just 60 seconds in the morning you are in full knowledge of your daily fertility status - 100% natural.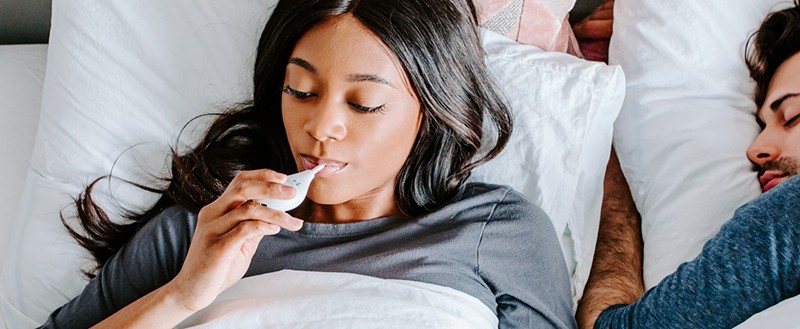 With Daysy it's only 3 steps: Wake up – measure – and you're done!
You can count on Daysy!
Daysy has a very high accuracy in showing you your fertile and infertile days. This accuracy is the result of over 30 years of work carried out by a team of gynecologists, fertility experts, software specialists, and engineers who have analyzed more than 5 million female cycles. The result is an algorithm you can count on!
Daysy stands for quality and latest certified technology
Daysy is a medical product. This unique ovulation calculator is produced in Europe in compliance with the highest quality and safety standards. In addition to the device itself, you can also get the app "DaysyDay" for iOS- and Android-based smartphones and tablets. This app allows you to gain more knowledge about your cycle and quickly visualize when you are fertile and when you are not. Daysy's calendar shows you your daily, weekly, length of menstrual cycle and your fertility status with a simple color system. In addition, you can observe your temperature curve over longer periods of time and make personal notes in your ovulation calendar. You can share your data and ovulation calendar with your loved one or with your doctor.
We also put emphasis on high quality in service: Our Daysy support team will be happy to provide you with advice and our own wealth of experience to answer your questions. You can also request a free cycle analysis from us. Just send us your data from the app "DaysyDay" and we will provide you with a free cycle analysis!
These are the benefits:
Daysy is all natural.
Easy handling and use: wake up, measure, done!
No more cycle curves, no more estimating and hoping – Daysy will do the work for you!
Feel better in your body – find your inner balance!
You get to decide about your body and your health.
With Daysy, the choice is yours.
Are you ready for simple and natural family planning, without tedious manual charting and analysis? Discover Daysy and its reliable, easy-to-understand display of your fertile and infertile days: 
Why women trust ovulation calculator Daysy
Daysy builds on more than 30 years of research and various studies commissioned by Valley Electronics. Our first product, the Lady-Comp, is one of the most successful ovulation trackers of our time. Based on years of experience with the Lady-Comp, continuous research and development, Daysy was launched in May 2014. Since then, thousands of women worldwide have been using Daysy.
This is what our Daisies say:
"Investing in my Daysy has been the best decision I have ever made for my health, both physical and emotional. I feel empowered and knowledgable about not just my own cycle but other women's too, and one of the best things is that I can spot exactly when menstruation is coming and am more gentle with myself as a result. Now when my husband and I get some alone time, all he needs to ask is 'red or green?' And we are on the same page." Lucy
"I absolutely love my Daysy. I can finally track my menstrual cycle. Plus it is super fun to sync with my phone and check out all my charts!" Abbas
"My health and life changing effects aside, the customer service at Daysy is the best I've ever received. Each time I've ever had a question and emailed them they get back to me right away and are so clear with their answers. They go out of their way to support you in anyway you need. I highly suggest purchasing a Daysy to any woman!"  Jess
"One year ago I made one of the best decisions of my life. I believe every women should have the right to choose what method is best for her lifestyle & body, and the fertility awareness method is hands down the best one for me. I am forever grateful for this method. I have a whole new level of love and trust for my body." Elle
"Daysy will tell you if you're fertile or not~ For the past 3 years, due to my PMDD and Dysmenorrhea, I have started to learn EVERYTHING I can about the menstrual cycle and women's health, and this little machine sure has helped me in my ongoing endeavor to reclaiming control of my body and mental health. While making me feel comfortable in my own body, and confident in knowing my cycle and working with it." Helene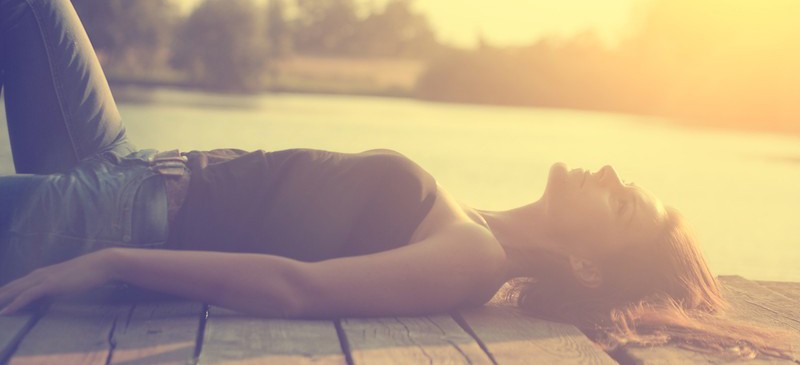 Receive free cycle analyses including printed reports at any time! Just send our team your data from the app "DaysyDay" and we'll email you a free cycle analysis, along with suggestions and tips concerning your cycle. We'll help you with any questions you may have.
Valley Electronics AG
Our Vision
More knowledge. More accuracy. That's our vision. Daysy is the tool. Data to help you plan a pregnancy. 
#loveyourbody 
Valley Electronics AG, based in Zurich, Switzerland, is an international research-based medical technology company with a long track record of developing and distributing ovulation calculators. Thanks to this accumulated knowledge, Valley Electronics has been able to manufacture and bring to market reliable, precise, and user-friendly technology for natural fertility control.
Located in Switzerland, Germany, and the USA, Valley Electronics, together with its affiliated companies, is active in more than 40 countries.
With its products Daysy, Lady-Comp, Baby-Comp, and Pearly, the company offers the highest possible reliability, well-engineered technology, and a wealth of experience. More than 50 employees are the creative heart of the company, working continuously to further improve the products and providing exceptionally personalized customer service.
As a family-owned company, Valley Electronics stands for values of transparency, compassion, openness, equal opportunities, family-friendliness, and sustainability. Valley Electronics' company culture is based on respect, openness, and personal development.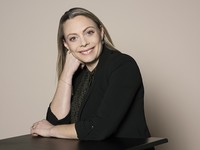 Valley Electronics is run by Natalie Rechberg, the daughter of Dr. Hubertus Rechberg, who founded Valley Electronics GmbH more than 30 years ago. Together with her husband Collin Egly, Rechberg is responsible for the entire product range of Valley Electronics and is constantly seeking to make improvements, e.g. by integrating new technologies and applications.
All Valley Electronics products are manufactured in Germany.
incl. VAT and Shipping
-
Product available - Delivery time: 2-3 days*
Daysy is an intelligent fertility tracker that lets you get to know your very own menstrual cycle.